Preparing Your Child's Room for Showings - Getting it Organized
Mon, 01/13/2014 - 12:00am
When you're preparing your home for sale, one of the most common things you'll hear is to get rid of the clutter; and for good reason. Potential buyers need to be able to picture themselves and their own belongings in your home in order to even consider making an offer.
I've written numerous articles about preparing your home for sale, but I've never focused on what to do in the kids' bedrooms. It's important not to disrupt your child's routine and to keep them feeling safe, secure, and okay with the moving preparations, so the ideas you'll see below are just ways to get organized and to help you find a place for their toys and clothes.
The organizing process is also a great time to store what they've outgrown and start the packing process. Put all of a toy's parts together, bag them up, and give it a label. You'll start off the unpacking process in your new home much more organized, which should take a little of the stress out of the unpacking party!
GIRLS ROOMS
This is a great example of using a bookshelf to its potential. It's welcoming and would appeal to a wide range of ages. The chair next to it is a nice touch too!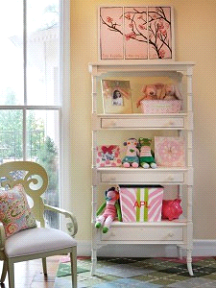 Source of image: HGTV
Not every kid has closet space this large, but there are a bunch of creative things you can add to any closet to get more organized. I also like the idea of painting the inside of the closet a different color than white!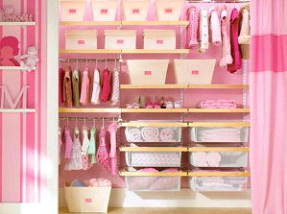 Source of image: HGTV
Having extra space in a bedroom for a desk area would be appealing to any parent. Show it in its best light by keeping it simple and organized. The painted peg board is a nice touch and keeps papers from cluttering the desk top!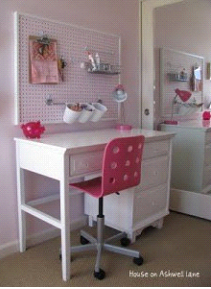 BOYS ROOMS
The space under the bed is key storage space! Don't waste it, use it to its potential like in this example.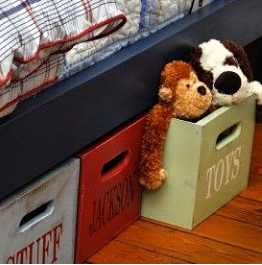 Source of image: Better Homes and Gardens
Opt for creative shelving for visual interest and the ability to achieve the "cool" factor!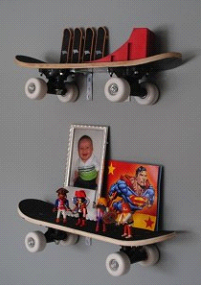 Source of Image: http://bit.ly/1IDaX2w
Dress up simple things like baskets and pails to bring a unified look to shelves or closet space. Nice to look at and a great way for the kids to know where their stuff is!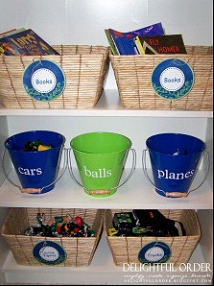 The idea is to present the room in a way that is organized, welcoming, and ready for any child!
Additional Resources for Selling a Home When Kids are Involved:
Tips for Selling a Home With Kids: Kyle Hiscock (Visit him on G+)
How to Explain Moving to Children: Barbara Bottitta (Visit her on G+)
More Articles for Home Buyers 
More Articles for Home Sellers
Thanks for reading my blog! It is my goal as your full service real estate Realtor specializing in the Richmond Hill, Savannah, Pooler, and Hinesville– Georgia areas, to provide you with exceptional service at all times. My promise to you is to openly and honestly answer all your questions, help you navigate through the process and to make myself available to you day and night. I work for you and you are my priority. My local expertise and extensive real estate training and experience will benefit you whether you are serious about buying or selling a home at this time, or are a returning client checking out the many homeowner resources I offer. I am a "real" person and my reputation depends on every client, every deal, every day. I LOVE my job and it shows! You can also connect with me on my Facebook Page and/or Google Plus for area info and events, things to do, real estate news, home ownership tips, tips for both buyers and sellers, and so much more! I'm also on Pinterest!